Zootechnics cattle division
Systems and accessories for modern zootechnics



Free stabling cattlesheds



Manure accumulation oil-pressure system
model: vertical "talpa" (mole)
manure removal system with oil-pressure press system, complete with unit from 7.5 HP or 10 HP
380/660 three-phase designed and inspected to resolve manure storage problems at a distance of approx. 50m from the collection and in low temperature conditions outside the stall.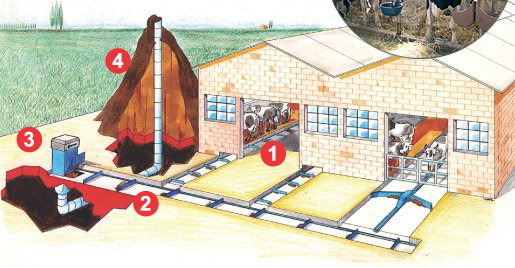 | | | | | |
| --- | --- | --- | --- | --- |
| 1 – Dung removal phase inside the stall by means of a channel in which the dung is conveyed by a rigid rod with blades, in steel or cast iron. | | 2 – Oil-pressure pushing unit towards the "Talpa" (3). | | 4 – Manure collection point equipped with ejection pipe, height 5m. |



Mod. EGN
Revolving elevator 180° for manure removal.
Conveyor length 6 - 8 - 10 metres

Revolving closed circuit elevator.
Lengths up to 10 metres.

Mechanical propulsor unit on handling side. Model GPO Fitted with a galvanised inspection case, ideal for transferring manure in the stall up to 40m.
Motorization 2 and 3 CV.

Oil-pressure manure pulling unit
model: GPI
Positioned sideways to
the channels
for belt
pulling, ideal
for lengths
up to
90m.

Oil-pressure vertical "Talpa".
By means of underground ducts, it pushes the dung towards the collection point situated up to a distance of 50m.